Vans for Hire in Sri Lanka
Looking for a reliable and affordable van for hire? Look no further than our van rental service!
We understand that finding the right vehicle for your needs can be a challenge, which is why we have a knowledgeable and friendly staff on hand to assist you with selecting the perfect van for your requirements. Our team can help you choose the right size and configuration, provide guidance on loading and securing your cargo, and answer any questions you may have about our rental process.
Our vans for hire also come with additional services to make your rental experience even more convenient, such as:
Insurance options: We offer a range of insurance options to ensure that you and your cargo are protected during your rental period.

GPS navigation systems: We offer GPS navigation systems to help you find your way to your destination quickly and easily.

Loading and unloading assistance: Our staff can assist you with loading and unloading your cargo, making your rental experience even easier.
At our van rental service, we're committed to providing you with exceptional customer service and a hassle-free rental experience. Contact us today to reserve your van and experience the convenience and reliability of our service.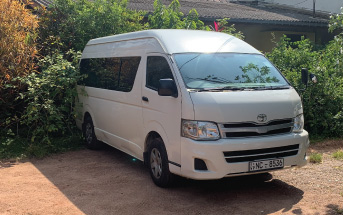 This is a 14 seater passenger van. Very comfortable van for long hires.
9 seater van for all your short trips. Model – DX. Contact us for more information 
Toyota KDH Flatroof Super GL
9 Seater Van for all your trips/ hires. Model – Super GL. comfortable van. 
Highroof Nissan is a superb Van with comfortable seats for trips and all your short term hires.
Toyota KDH Highroof 9 Seater
9 Seater highroof KDH Van with a lot of luggage space. Good for long hires.
9 Seater van with a lof of space. Very common van in Sri Lanka. 
Still Looking For Holiday Vehicle ? If you are looking for a good comfortable vehicle, then you're at the right place. The Best Possible Rates For you Needs.
At Mark Tours, our friendly agents will guide you through the whole process. No matter what the occasion is, we can provide the perfect vehicle to suit any occasion.